An Enchanting Wedding Up In The Air
12 June, 2019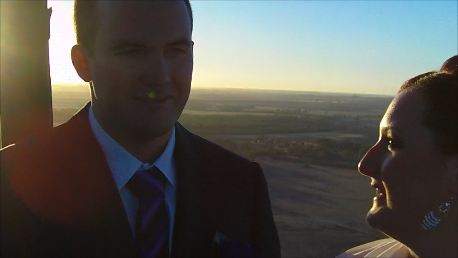 "I can show you the world; shining, shimmering, splendid"… this is what goes through my mind when I remember one particular wedding. Back in 2012, the Crystal Swan hosted a wedding reception only dreams are made of - getting married on a hot air balloon!
Our lovely bride traveled from Geraldton to Northam for the ceremony to be held in a hot air balloon as a golden morning dawned. Exchanging vows with such breathtaking views made this a truly memorable day for the bridal couple.
While this intimate ceremony would have only allowed a few people 'on board', the 50 guests invited to the reception on the Crystal Swan were given glimpses of this most romantic ceremony: the one-of-a-kind wedding video and photos were shared onboard using our projector and screen. A plated 3-course dinner continued the merriment while everyone experienced being "up in the air".
Such a unique wedding has had guests and staff alike remembering for years after!