Marriage Celebration for Indy & Jess
12 June, 2019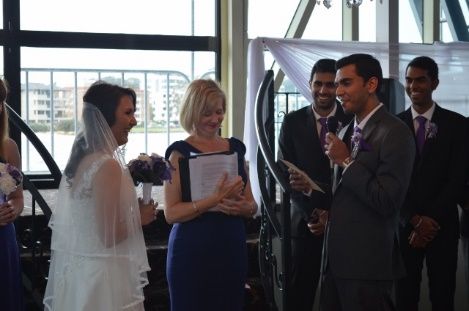 It was a real delight to host the wedding reception for Indy and Jess. This wedding was quite unique in that the Groom made all the arrangements (he is an engineer) as the bride was working in Kuala Lumpur up until the Thursday prior to the wedding… We think he did an absolutely fabulous job!
Guests embarked on this beautiful wedding celebration with the Crystal Swan from Mends Street in trendy South Perth, and were seated for the ceremony. Beautiful Jess was simply stunning as the blushing bride while Indy looked like the luckiest man alive. The focus was wholly on the newlyweds, and despite inclement weather the cruise remained smooth and steady.
Guests were treated to a delectable choice in a buffet menu freshly prepared by our onboard chef. Everyone enjoyed themselves dancing and celebrating the wedding, and they were invited to add to the married couple's memories by taking part in a fun and playful photobooth. Photos with well wishes and comments were gifted to the Bride and Groom as keepsakes and a reminder of their special day!
Warm congratulations to a very special pair from the crew at the Crystal Swan. May you always find in each other the love, laughter and happiness that only partners in life share!